Easy for You and Your Employees
Calculate Tip Amounts
Approve & Send Out Tips
Get Paid!
Insightful Reporting
Easy for You and Your Employees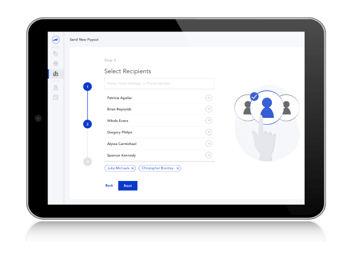 Getting your restaurant up and running with Payouts Network is a breeze. Scroll through these steps to see how easy it is.
Calculate Tip Amounts
Once you've divided the tips among your employees, you can simply type in the amount for each individual employee.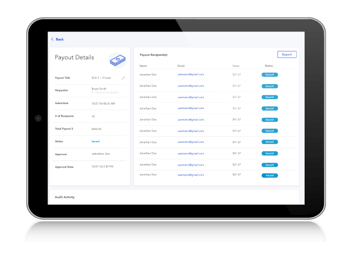 Select or add payout recipients
Specify payout amounts
Request payout
Approve & Send Out Tips
No banking information needed! Employees will receive a link with instructions on how to set up their accounts for their first payment.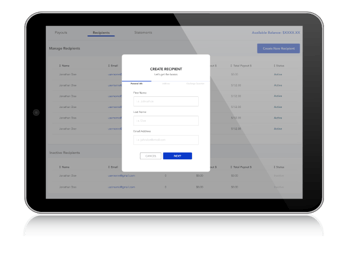 All payout requests can be centrally reviewed by designated managers
Payout claims are delivered instantly via email
Get Paid!
Employees receive a text or email notifying them that they have been paid.
Recipients receive payout notifications
After confirming their identity, recipients enter their card information
Once claimed, funds are disbursed directly to recipients' cards and are available instantly
Employees can opt-in for automatic deposit for all future tips or payments
Insightful Reporting
See the status of your tip outs and reconciliations.
Track all issued and claimed payouts in real-time
Query data by location, payout type, or individual worker
Digital Tip Outs Save You Money
With our pricing structure, the cost of the platform basically pays for itself. Get a quote and see how much your restaurant could save.
Discover the Benefits for Your Restaurant
Instantaneous Tip Out

Instantly send earned tips and wages to employees at the end of each shift.

Say Goodbye to Bank Runs

Go cashless and eliminate the need for nightly bank drops.

Improve Employee Safety

Keep your staff safer and lower the risk of theft by reducing the amount of cash you keep on-premises.

Reduce Labor Costs

Cut down on administrative time spent managing payouts by as much as 50%.
Make Your Workplace Happier

With faster, more accessible digital tip payouts, you can keep front of the house, support staff, and management morale high.

Reduce Employee Turnover

With same-day tip payments, you can keep your best employees for longer.

Improve Your Cash Flow Visibility in Real-Time

View your money in real-time and easily export critical payout data for faster reconciliation.

Gain Real-Time Cashflow Visibility

See how your money moves in real-time and easily export critical payouts data for faster reconciliation.
Frictionless Setup

With simple onboarding for your restaurants and employees, you can immediately see the benefits of your tip payout solution.

Employee Privacy and a Smooth Bank Connection

Our systems connect to all banks without requiring staff to share their banking information.

Boost Your Hiring Rate

Maintain your competitiveness in your local market by providing service staff with daily tip payouts.

Control Your Cashflow

Gain more control over your cash flow in order to better manage unexpected needs such as supply runs or midweek orders.
Reduce Employee Turnover

Keep your best employees around longer with same-day tip payouts.

Direct employee payment 

Tip payouts will be sent directly to your employees' preferred credit or debit cards.

Employee Behavior Incentives

With instant cash transfers, you can support sales contests and reward oustanding employee behavior.

Digital Reimbursement in an Instant

With digital reimbursements, you can instantly cover unplanned expenses and fill unexpected supply shortages.
Instantaneous Payouts

Settle every shift in 30 seconds and provide your employees with immediate access to their earned wages.

Seamless mobile experience

Employees can easily sign up for digital tip payouts directly from their mobile device.

Better Employee Experience

Foster a more positive work culture by improving your employees tip payout experience.

Reduce Administrative Costs

Save time and money — our system can reduce labor time administering payouts by 50%.
Attract New Employees

Attract and keep employees by providing rapid access to earned tips and salaries at the end of each shift.

End Your Day Earlier

Decrease your labor costs and save time closing out each day by eliminating antiquated, time consuming payment processes.

Employee Setup is a breeze.

Employees may set up their chosen payment method straight from their mobile device, —no app required.

Dig Into the Data

Effortlessly export and upload your data for quick and accurate reconciliation.
Reduce Human Mistakes

Tipping out digitally reduces human error when dealing with cash distributions and other cash-based transactions.

Cash Flow Visibility in Real-Time

Increase your visibility and understanding of how your clients manage their cash flow.

Enhance Security

By switching to a digital tip payout system, you can reduce the possibility of theft and skimming.

Save on Operational Cost

By minimizing time-consuming tip payout processes, you may increase your profitability and ROI.